March 25, 2013 (LD) - While US President Barack Obama and the Western media lied in concert to the world regarding America's role in supporting terrorists operating in Syria, it is now revealed that the US Central Intelligence Agency (CIA) has been shipping weapons to Syria via NATO-member Turkey and Jordan since at least early 2012. The New York Times in their article titled, "Arms Airlift to Syria Rebels Expands, With C.I.A. Aid," admits that:



With help from the C.I.A., Arab governments and Turkey have sharply increased their military aid to Syria's opposition fighters in recent months, expanding a secret airlift of arms and equipment for the uprising against President Bashar al-Assad, according to air traffic data, interviews with officials in several countries and the accounts of rebel commanders.

The airlift, which began on a small scale in early 2012 and continued intermittently through last fall, expanded into a steady and much heavier flow late last year, the data shows. It has grown to include more than 160 military cargo flights by Jordanian, Saudi and Qatari military-style cargo planes landing at Esenboga Airport near Ankara, and, to a lesser degree, at other Turkish and Jordanian airports.


The New York Times piece attempts to spin America's role in arming militants in Syria. The Times continues by stating:



The American government became involved, the former American official said, in part because there was a sense that other states would arm the rebels anyhow. The C.I.A. role in facilitating the shipments, he said, gave the United States a degree of influence over the process, including trying to steer weapons away from Islamist groups and persuading donors to withhold portable antiaircraft missiles that might be used in future terrorist attacks on civilian aircraft.

This is categorically false… [Details & Linkage @ Land Destroyer]
Foreign Policy Magazine Mideast Brief notes ever so gently the Syrian National Congress Opposition party that isn't, even according to themselves, really about 'opposition' but intends 'overthrow', is coming apart at the seams (along with a note that the FSA's commander was injured by a bomb)


"Ahmed Moaz al-Khatib, the head of the Syrian National Coalition (SNC), announced his resignation on Sunday via a statement written on his Facebook page. Al-Khatib wrote, "I announce my resignation from the National Coalition, so that I can work with a freedom that cannot possibly be had in an official institution." MORE
Joshua Landis at Syria Comment has a harsher view of the SNC and illustrates the rift between the loyal-to-Syria opposition and the mercenaries being 'run' under the ageis of 'opposition':
"In this interview (video @ post) with Al-Arabiya, Syrian opposition leader Michel Kilo accuses the Muslim Brotherhood and Mustafa Sabbagh's Qatari-backed faction in the Syrian opposition of catapulting Ghassan Hitto to the Prime Ministership of the interim government in a non-consensual manner: "Qatar wanted Hitto…and the Qatari-backed group in the National Coalition agreed on Hitto and imposed Hitto without any political or consensual considerations that considers Syrian interests in terms of a national cause…" Kilo argues that the Hitto election sidelined Muaz al-Khatib and led to his resignation. Here is my article on these tensions.

This was particularly true after Qatar invited Hitto to represent Syria in the Arab Summit meeting to take place on Tuesday. Khatib was also invited, but he would be a third wheel. All eyes will be on Hitto, the newly elected Prime Minister, who is expected to form a government.

Liz Sly has a good article, "Syrian opposition in disarray as its leader resigns, The Syrian opposition is now leaderless at a time when the United States is stepping up its support. She quotes Amr al-Azm, who has great insight into the opposition.

"The coalition is on verge of disintegrating," he said. "It's a big mess."

The trigger for Khatib's departure was the selection last week of Ghassan Hitto, a relatively unknown Syrian-born U.S. citizen, to head a proposed interim government. Khatib and his supporters had opposed the creation of an interim government at this time, as had the United States, whose diplomats argued against the move on the grounds that it created an unnecessarily divisive distraction from the goal of bringing down Assad's regime, according to Syrian opposition members." MORE
Landis also notes the US and Britian are chomping at the bit for a siege of Damascus. But who will do that? Certainly not a fragmented SNC. NATO will… Eventually… When the damage to the civilian morale of Damascus done by the so-called 'rebels' reaches 'critical mass', and according to reports there has been mortar fire targeting the Syrian National Broacasting network in the city. Mortars have a range of about 3-4 miles maximum… Meaning the FSA is already operating in Damascus terrorizing it's citizens. Can NATO air strikes be far behind with US congress discussing military action against the Assad government of Syria?
Asked during a Friday morning television interview whether there now is an "inevitability" of U.S. or multilateral intervention, Senate Foreign Relations Committee member Sen. Chris Coons, D-Del., replied: "Yes."

"Circumstances on the ground in Syria continue to change in ways that will move us closer and closer toward some sort of multilateral action," Coons told MSNBC, "especially if there is a confirmation that the Assad regime … has used chemical weapons."

Several senators referenced the Levin-McCain letter, calling it a signal of a worsening situation inside Syria and growing worries on the Hill.

"We believe there are credible options at your disposal, including limited military options, that would require neither putting U.S. troops on the ground nor acting unilaterally," the senators wrote to Obama.

In the letter, the duo suggests Obama take several steps, including U.S. airstrikes to cripple Assad's Air Force to "ease the suffering of the Syrian people and protect U.S. national security interests."

Levin and McCain believe Obama should order air strikes targeting Assad's combat aircraft and Scud missile batteries.

Sen. Kelly Ayotte, R-N.H., a close ally on McCain who shares his interventionist foreign policy and national policy philosophy, said she is "very supportive of further action in Syria." But she added she has yet to discuss with McCain and Levin the possibility of using U.S. air power to end the war — and Assad's reign. MORE
"Do you remember?

10 years ago the prostitutes of the Western Media 'came out of the closet' as a de facto Ministry of Lies and still to this day have NOT apologized to their respective citizens. If you read the news today you'll see them ignore and/or rationalize their own UNPATRIOTIC TREACHERY AND DERELICTION OF JOURNALISTIC DUTY that led the citizens of many industrialized nations into the 'slow motion diplomacy train wreck' to end all 'wrecks'.

Mayhem aside (and honestly it's not easy for me to 'put it aside'), if the Western powers DID want to secure the continued supply of reasonably priced oil and other extractive resources from the region there could NOT have been a LESS EFFECTIVE WAY to do it, and as can be clearly seen now, the sociopaths who control the levers of power in the industrial world DIDN'T shoot THEMSELVES in the foot.

They amputated a whole "leg" of the global civilian economy for their own monetary benefit."
—
Razer Ray @ Auntie Imperial's News & Blog Review

Paul Craig Roberts:

March 19, 2013. Ten years ago today the Bush regime invaded Iraq. It is known that the justification for the invasion was a packet of lies orchestrated by the neoconservative Bush regime in order to deceive the United Nations and the American people.

The US Secretary of State at that time, General Colin Powell, has expressed his regrets that he was used by the Bush regime to deceive the United Nations with fake intelligence that the Bush and Blair regimes knew to be fake. But the despicable presstitute media has not apologized to the American people for serving the corrupt Bush regime as its Ministry of Propaganda and Lies.

It is difficult to discern which is the most despicable, the corrupt Bush regime, the presstitutes that enabled it, or the corrupt Obama regime that refuses to prosecute the Bush regime for its unambiguous war crimes, crimes against the US Constitution, crimes against US statutory law, and crimes against humanity… [Read More:

Iraq After Ten Years

]
ROTF!

Paul Wolfowitz bemoans the fact that their plan for a West friendly shadow government, already, in place failed despite having bribed Iraqi officials with millions of dollars:


In an interview with The Sunday Times, he said there "should have been Iraqi leadership from the beginning", rather than a 14-month occupation led by an American viceroy and based on "this idea that we're going to come in like [General Douglas] MacArthur in Japan and write the constitution for them.
From the archives, Juan Cole @ Informed Comment relates a conversation Doug Feith of the Office of Strategic Planning had with a Grad student he was teaching @ Georgetown University and indicates they already had people in place whom he believed would simply walk in and take over control. Just like Libya, and now Syria.
We can SEE the kind of 'control' that's achieved in Libya Iraq, and if these freaks have their way, Syria.. The country that absorbed more than a million fleeing Iraqis without EVER asking the U.N. or ANYONE for a penny to assist. One of the most stable governments in the region HAS BEEN destabilized:
State Dept. Official: "Doug, after the smoke clears, what is the plan?"
Feith: "Think of Iraq as being like a computer. And think of Saddam as like a processor. We just take out the old processor, and put in a new one–Chalabi."
State Dept. Official: "Put in a new processor?"
Feith: "Yes! It will all be over in 6 weeks."
State Dept. Official: "You mean six months."
Feith: "No, six weeks. You'll see."
State Dept. Official: "Doug."
Feith: "Yes?"
State Dept. Official: "You're smoking crack, Doug."
Feith: "Oh, so you're disloyal to the President, are you?"
(Source, Informed Comment)
More declassified @ the National Security Archive @ George Washington University:

TOP SECRET: POLO STEP
Iraq War Plan Assumed Only 5,000 U.S. Troops Still There by December 2006


"First, they assumed that a provisional government would be in place by 'D-Day', then that the Iraqis would stay in their garrisons and be reliable partners, and finally that the post-hostilities phase would be a matter of mere 'months'." [Declassified Docs Here]
What the Syrian destabilization operation IS REALLY all about. Stealing oil from Iran (slant-drilling like Kuwait did to start the "Gulf War") and piping it from Kirkuk to the Mediterranean.

A good history and analysis follows but it ignores the role of NATO and the West… For instance: "The Alleged 'First' US Trained 'Rebels' Return to Syria from Jordan" CNNH/t Joshua Landis, Syria Comment
Saturday, March 16th, 2013

by Aron Lund

Is the FSA losing influence in Syria? How many people are in the FSA? Is the FSA receiving enough guns from the West, or too many? Will the FSA participate in elections after the fall of Bahar el-Assad? What is the ideology of the FSA? What's the FSA's view of Israel? Is Jabhat el-Nosra now bigger than the FSA? What does the FSA think about the Kurds? Who is the leader of the FSA? How much control does the central command of the FSA really have over their fighters?

All these and similar questions keep popping up in news articles and op-ed chinstrokers in the Western media, and in much of the Arabic media too.

They all deal with important issues, but they disregard an important fact: the FSA doesn't really exist.

The original FSA: a branding operation

The FSA was created by Col. Riad el-Asaad and a few other Syrian military defectors in July 2011, in what may or may not have been a Turkish intelligence operation. To be clear, there's no doubting the sincerity of the first batch of fighters, or suggest that they would have acted otherwise without foreign support. But these original FSA commanders were confined to the closely guarded Apaydın camp in Turkey, and kept separate from civilian Syrian refugees. Turkish authorities are known to have screened visitors and journalists before deciding whether they could talk to the officers. While this is not in itself evidence of a Turkish intelligence connection, it does suggest that this original FSA faction could not, how shall we say, operate with full autonomy from its political environment.

From summer onwards, new rebel factions started popping up in hundreds of little villages and city neighborhoods inside Syria, as an ever-growing number of local demonstrators were provoked into self-defense. The most important recruiting tool for this nascent insurgency was not the FSA and its trickle of videotaped communiqués on YouTube. Rather, it was Bashar el-Assad's decision to send his army on a psychotic rampage through the Syrian Sunni Arab countryside. As the corpses piled up, more and more civilians started looking for guns and ammo, and the rebel movement took off with a vengeance.

While the new groups almost invariably grew out of a local context, and organized entirely on their own, most of them also declared themselves to be part of the FSA. They adopted its logotype, and would often publicly pledge allegiance to Col. Riad el-Asaad. As a branding operation, the FSA was a extraordinary success – but in most cases, the new "FSA brigades" had no connection whatsoever to their purported supreme commander in Turkey. In reality, what was emerging was a sprawling leaderless resistance of local fighters who shared only some common goals and an assemblage of FSA-inspired symbols… [

More

]
The forced breakup of Yugoslavia hinted at below created generations of youths who had no hope but to become Mujaheddin fighters for income. Later, and currently, employed as mercenaries.

Guess what they're doing right now?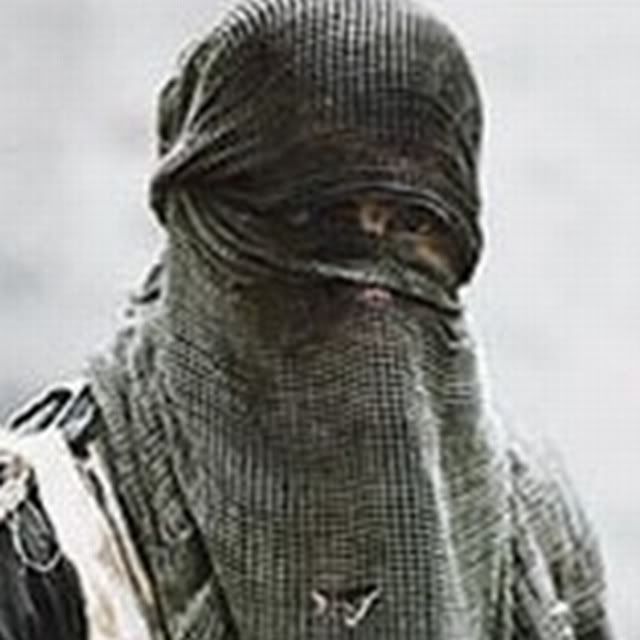 [Alleged Serbian Mercenary In Libya, Click The Image Or HERE For More]
"Assad invoked, Islamists in the opposition is evidence of what may fill the vacuum in the event of his departure. Many Syrians fear that if Assad goes, the country could end up being partitioned along sectarian lines as the rebels attack themselves. This was seen as why Assad repeatedly referred to foreign plots and the role of Al Qaeda."
Meanwhile, the REAL DEMOCRATIC OPPOSITION in Syria is sidelined by the NATO destabilization operation:
Marcus Papadopoulos is editor of the magazine Politics First. He said Assad's call for a national dialogue recognizes the extent of the support within the country.



"People are forgetting the domestic Syrian opposition, which is comprised of at least a dozen political parties and they have been from the very start. They've said, yes, they want change in Syria, and that is legitimate, but they want change that come through working with the Syrian governments and they've made it very clear that they don't want to have anything to do without side forces, be it countries in the region, Turkey or Saudi Arabia or western countries."
More @ Voice of Russia
Here
&
Here
"The people we're dealing with were, are, and for as long as the power structure currently in place maintains, will be, Sociopaths"
—
Operation Northwoods was a series of false-flag proposals that originated within the United States government in 1962, but were rejected by the Kennedy administration.[2] The proposals called for the Central Intelligence Agency (CIA), or other operatives, to commit perceived acts of terrorism in U.S. cities and elsewhere. These acts of terrorism were to be blamed on Cuba in order to create public support for a war against that nation, which had recently become communist under Fidel Castro.[3] One part of Operation Northwoods was to "develop a Communist Cuban terror campaign in the Miami area, in other Florida cities and even in Washington".
For more on the Sociopath's way of viewing the world see:
http://en.wikipedia.org/wiki/Operation_Northwoods
Also see this excellent Spiegel article about DroneWars operations, "
Dreams in Infrared: The Woes of an American Drone Operator
" and read what the commander of operations has to say… A textbook case of sociopathy by his own admission.
"Now the potential for any real popular struggle is decreasing rapidly; Syria is governed now by weapons; and only those who have them can have a say about its present and future. And that is true not only for Assad's regime and its Islamic opposition.

Everywhere in the Middle East the great hopes are disappearing rapidly - in Tunisia, Egypt and elsewhere. The Islamists seem to be getting all the benefits of the courageous struggles of the masses. And they could easily initiate the process of establishing their fanatical rule, without strong opposition from the masses.

I could feel exactly like Emma Goldman felt in 1922 when she broke with the Bolsheviks and finally became disillusioned with their rule. In fact, no one in the whole Arab and Muslim world looks closer to the Bolsheviks nowadays than the Islamists."
— A Close (Anarchist) look at the Syrian revolution
November 06, 2012, by 'A Syrian comrade'
"NATO cut your comm lines bubie?

VF1freedom (Twitter: @VFfreedom)

Dial up access #Syria: +46850009990 +492317299993 +4953160941030 user:telecomix password:telecomix OR +33172890150 login:toto password:toto"